9510R
Articulated 4wd Tractors
Tap photo to enlarge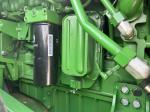 John Deere 9510R
$309,900
Articulated 4wd Tractors
2012 JD 9510R, 18 SPEED PS, 7" TOUCH SCREEN, PREMIUM CAB, LEATHER SEAT, STANDARD HYD, 4 SCV, 800/70R38 MICHELLIN DUALS, ELEC MIRRORS, GREASEABLE PINS, 2 1400LB WEIGHTS ON INSIDE REAR, PREMIUM LIGHTS, XM RADIO, NEW LONG BLOCK, Before driving to see this item, please call or email to confirm availability.

Make: John Deere
Model: 9510R
Year: 2012
Hours: 2648
Stock Number: 189932
Serial Number: 1RW9510RJBP001180
Location: Winchester, IL
Status: Used

Guidance Display Yes
Guidance-ready Yes
Tires Duals
Transmission Power Shift

English Operator's Manual
18 Speed Powershift, 18 F/6 R Speeds with Efficiency Manager
Touchscreen GS3 Command Centre, 7" Colour Display, Video Capable
Premium CommandView II Cab
Premium Radio Package with XM Radio
Standard Hydraulic System
Four Deluxe Electric-Hydraulic Rear Remote Selective Control Valves (Standard Hydraulic System)
Cat. 5 Drawbar (2 position) with Heavy-Duty Drawbar Support
Heavy Duty, 3048 mm (120 In.) X 120 mm (4.72 In.) Diameter Double Reduction
800/70R38 173A8 R1W Radial in Dual Configuration
Michelin Brand Only
Premium HID Lighting
Wide Rear Fenders, 939 mm (37 in.) Wide by 1937 mm (76 in.) Long
Front Axle Reinforcement
Leather Trim
External Mirrors, Electrically Adjustable, Heated, Power Extendable, RH and LH
Radar with Dual Beam Sensor
Antenna Mount and Wiring for Business Band Radio
Motor Seal Drain Kit
JohnDeere PowerTech PSX 13.5 L (824 cu. in. ) 6 Cyl. iT4 / Stage 3b Compliant Diesel
Greaseable Steering Cylinder Pins
Wheel Weights - Inside Rear 1400 lb.